endorsements
The Gospel Next Door:  Following Jesus Right Where You Are, by Marty Troyer
"Love God & love your neighbor" was Jesus' grand Scripture summary.  Marty Troyer paints a picture of what loving God as loving your neighbor can actually look like in the everyday stuff of life.  Troyer's important book is part of a large and growing movement of Christians rediscovering the practices of "local-church."  This book points toward collaboration more than competition, and discovering God's Shalomic dream for your place and its people more than pursuing your own vision.  Be careful, The Gospel Next Door may mess with your plans because it'll invite you to listen deeply, to join humbly, and to learn to love your real neighbor and the neighborhood within which God has placed you.

Live Like you Give a Damn! Join the Change Making Revolution, by Tom Sine
Live like you Give a Damn is Tom Sine at his finest . . . and it's a must read.  With the wisdom and clarity of a hopeful prophet Tom insightfully reads the signs of our times – some of which should sound alarms in us – yet all the while points to the new wine of the Spirit.  This book a testament to Tom's life of listening for the invitation of God through real stories of fresh expressions borne of radical disciples of Jesus.  Teeming with examples of real people and real communities this book is essential for anyone seeking to follow Jesus into the everyday stuff of life and for those studying in Bible colleges and seminaries hoping that the church might have a Gen Next future.

The Mystical Imagination: Seeing the Sacredness of All of Life, by Mark Votava
The Mystical Imagination is an essential read for anyone sensing that following Christ just might be a whole-life adventure, transforming everyday moments into our chance to join the Spirit in community as the "body" reciprocally serves God by serving neighbor.   Mark has put into words a deep longing for Shalom that woos me to invite the Holy Spirit to enliven my imagination for seeing that God is already present, at work, and graciously welcoming all to lives of rest, play, creativity, and beauty.

Structured for Mission: Renewing the Culture of the Church, by Alan J. Roxburgh
All future iterations of church structure will pass through this must-read book by Alan Roxburgh.  With intellectual breadth, wisdom and clarity Roxburgh explores deep formative questions exposing how our church institutions and structures organize our lives and can be renewed, even transformed.  All structures are embedded with narratives and traditions; the future of church structures requires both theological imagination and discernment with the Spirit to realign those narratives and traditions with God's dream for creation thus rendering more plausible material expression in everyday life.  I commend Structured for Mission to you.

Rescuing the Gospel from the Cowboys: A Native American Expression of the Way of Jesus, by Richard Twiss
Having sat at the feet of Richard Twiss, known the warmth of his friendship, and grieved his passing I was thrilled to learn of this volume we now hold.  Rescuing the Gospel from the Cowboys is a significant book for all who seek to live in the Way of Jesus.  Speaking honestly and respectfully in the face of oppression and violence perpetrated in the name of the Good News, Rescuing the Gospel from the Cowboys invites fresh and real ways of following in the Way of Jesus without preference to any one cultural frame; and therefore opens the way to be who you are, as a particular person, of particular culture(s), and to do so in the Shamolic Way of the Creator.  Rescuing the Gospel from the Cowboys accomplishes a vital task that should be self-evident; a person can be fully Lakota and fully Christian… in fact there is no other way to be fully Christian.  This book throws open the door for all indigenous churches to wrestle afresh with the fact that the gospel is at home in every culture and simultaneously alien to every culture.

Incarnate: The Body of Christ in an Age of Disengagement, by Michael Frost
In a culture obsessed with practices, technologies, and forms of entertainment that distance us from what is most real and true  human experience Michael Frost wisely takes us back to the incarnation of God in Jesus Christ.  Incarnate teases out the real-world implications of the embodied earthy presence of God in Jesus Christ as the missional key for the Body of Christ.  Incarnate is essential reading for faith communities seeking to follow Jesus into loving God by loving neighbors.

God's Graffiti: Inspiring Stories for Teens, by Romal J. Tune
In God's Graffiti, Romal Tune doesn't shy away from either the dark side of Scripture's most notorious characters, nor the pressing challenges of urban life… and he does so putting skin on hope.  Reading like a memoir told through often overlooked parts of Bible stories, Tune offers a fresh perspective for reading our graffiti marked lives with a kind of expectancy that the hand-writing on the wall may in fact be God's invitation to fullness of life.  I was tagged by grace in my reading God's Graffiti.

No Home Like Place: A Christian Theology of Place, by Leonard Hjalmarson
In a world of long commutes, affordable travel, global internet connections, and a host of cultural practices tending to distance us from the truth of our locatedness, No Home Like Place invites us to take root again.  It dares us to embrace the gift of a human-scaled life.  Hjalmarson integrates fresh theological reflection with thoughtful practices for inhabiting place; a magnificent and liberating practical theology of place.

Neighbors and Wise Men: Sacred Encounters in a Portland Pub and Other Unexpected Places, by Tony Kriz
This book is a spritz of Windex™ on the murky lens of life.  It invites us to see the presence of God in the glorious mundane.   Tony's unconventional journey finds voice in Neighbors & Wise Men, blending honest spirituality with extraordinary skill as a storyteller. I already want to re-read this book.

Creating A Misisonal Culture: Equipping the Church for the Sake of the World, by JR Woodward
Jesus once summed up the Law saying, "love God, love neighbor."  In Creating a Missional Culture JR Woodward blends practical wisdom with thoughtful scholarship as he guides leaders toward cultivating faith communities where love of God and love of neighbor become the new norm.  I have been craving a book that would facilitate the re-imagination of church culture, and it is finally here.  I commend, Creating a Missional Culture to you.

Views from the Urban Loft: Developing a Theological Framework for Understanding the City, by Sean Benesh
"As I devoured Sean Benesh's Views from the Urban Loft the image of Jesus longing for the city of Jerusalem was never far from my heart and mind.   Sean's hope for the city has a missional shape inviting people of faith to take a profoundly holistic second look at the place(s) where they live, work, play and worship.  Views from the Urban Loft invites readers to dream and dares people to act for the common good of their place as Good News."

.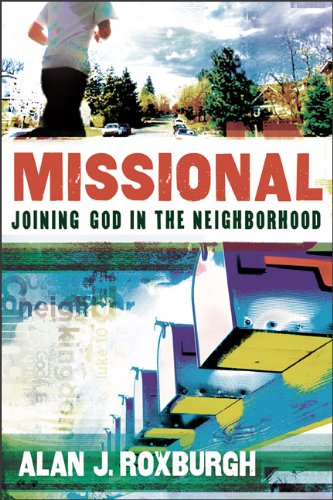 Missional: Joining God in the Neighborhood, by Alan J. Roxburgh
"Roxburgh daringly puts the church in its place . . . literally.  Missional invites us to relocate the center of missional life from churches to our places and neighborhoods.  Drawing on a lifetime of missional practice and study Roxburgh brings together missional theology with real world stories of missional practitioners.  A must read for any community seeking to live even more missionally."
.
The Bible as Improv: Seeing and Living the Script in New Ways, by Ron Martoia
"If you have ever witnessed a jazz ensemble breathe fresh life into a classic Miles Davis piece, then you have a sense of what Ron Martoia is inviting us to through The Bible as Improv.  Faithfulness and playfulness dancing together toward fullness of life; immersion in the history of the art, keen awareness of prior interpretations, skilled with one's instrument, thoughtful study of the charts, interpreters playing off one another in community and with the audience.  The Bible as Improv is a beautiful exercise in practical biblical hermeneutics."

place
God is Dead and I Don't Feel So Good Myself: Theological Engagements with the New Atheism, by Andrew David, Christopher Keller, & Jon Stanley
"Through insightful essays, penetrating conversations, and beautiful poetry, 'God is Dead' and I Don't Feel So Good Myself brings thoughtful theologians, philosophers, and poets together to engage, learn from, and critique the cultural expression known as the New Atheism. I highly recommend this text as a conversational form of cultural engagement marked by a careful and generous listening punctuated by conviction and humility, curiosity and critical thinking."

parish
GloboChrist: The Great Commission Takes a Postmodern Turn, by Carl Raschke
"I'd hoped to give GloboChrist a quick read, but after picking it up I simply  couldn't put it down; it is elegant, clear, and provocative.  Raschke not only helps us see Christ and mission afresh in our hi-tech, pluralistic, postmodern, and global context but also equips us with engagement strategies."
.
parish
Metavista: Bible, Church and Mission in an Age of Imagination, by Colin Greene & Martin Robinson
"Metavista may well be the first 'must read' of the 21st century for any Christ-follower seeking to embody the gospel in our global context."
.

parish
The New Conspirators: Creating the Future One Mustard Seed at a Time, by Tom Sine
"Among the very best of the growing body of literature exploring the very important question: Does the future have a church?"
..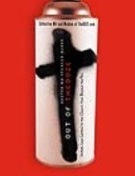 place
Out of the Ooze: Unlikely Love Letters to the Church from Beyond the Pew, by Spencer Burke
"Out of TheOOZE is theology of the people, by the people and for the people.  Having sifted through hundreds of thousands of web contributions to theOOZE.com Spencer Burke has selected a few choice offerings, inviting us to encounter the concerns, wonderings, and awakenings of real people seeking to live faithfully in the Way of Jesus in an era of growing church crisis.  No doubt there will be points of dissonance, but Out of TheOOZE will compel you to focus and re-focus your vision of the living Gospel with the hope of a new Kingdom resonance.".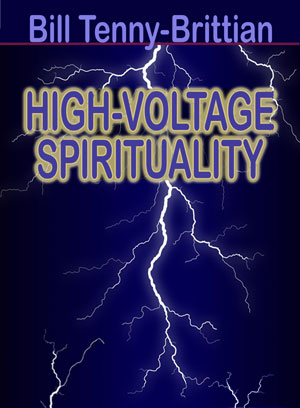 place
High-Voltage Spirituality, by William Tenny-Brittian
"All too often books on spiritually assume empty calendars and quiet spaces, but not High-Voltage Spirituality.  Tenny-Brittian puts real-world spirituality within the grasp of busy people.  He invites readers to a holistic and earthy vision of life with God which reclaims and redeems even the fullest schedule."