Writings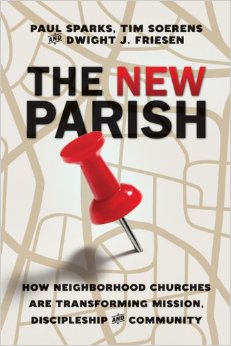 "The New Parish: How Neighborhood Churches Are Transforming Mission, Discipleship and Community"
Written together with, Paul Sparks & Tim Soerens.
"When . . . faith communities begin connecting together, in and for the neighborhood, they learn to depend on God for strength to love, forgive and show grace like never before. . . . The gospel becomes so much more tangible and compelling when the local church is actually a part of the community, connected to the struggles of the people, and even the land itself." Paul Sparks, Tim Soerens and Dwight J. Friesen have seen–in cities, suburbs and small towns all over North America–how powerful the gospel can be when it takes root in the context of a place, at the intersection of geography, demography, economy and culture. This is not a new idea–the concept of a parish is as old as Paul's letters to the various communities of the ancient church. But in an age of dislocation and disengagement, the notion of a church that knows its place and gives itself to where it finds itself is like a breath of fresh air, like a sign of new life.
The New Parish, release date, April 2014.


"Signs of the Times: Paatoral Translations of Ministry & Culture in Honor of Leonard I. Sweet" edited by Brian A. Ross
All ministry leaders concern themselves with the intersection of Jesus-centered ministry and contemporary culture. They ask themselves questions such as, "What do we need to change in order to keep up with a wired world?" "What should never change?" "What are the nonnegotiables of faith in Jesus?" Many have attempted to answer these questions. However, most of these leaders offer solutions that the everyday ministry leader simply cannot replicate. Signs of the Times is a unique offering to those who wrestle with the mash-up of ministry and culture. All of the contributors have found success within their ministries, and yet most do not minister to thousands on a weekly basis. Additionally, all of them have had the privilege of studying directly with Dr. Leonard I. Sweet. Despite having authored more than fifty books, Sweet can still be a bit of an enigma. Many of his readers have been deeply influenced by him, and yet they may still struggle to understand what his insights might mean for their ministry. Each of the contributors to this work thoughtfully engages with a key idea that they personally learned from Sweet and they translate it for ministry in the early twenty-first century.
My chapter is titled: "What's Going on Here? Trusting God's Story in Your Own"
Signs of the Times, released April 2016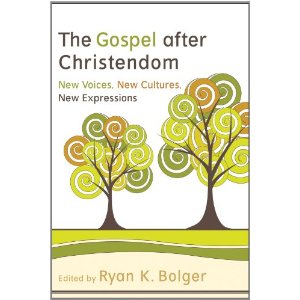 "The Gospel After Christendom: New Voices, New Cultures, New Expressions," edited by Ryan Bolger
Emerging church movements are an increasingly global phenomenon; they exist as holistic communities that defy dualistic Western forms of church. Until now, many of the voices from these movements have gone unheard. In this volume, Ryan Bolger assembles some of the most innovative church leaders from around the world to share their candid insider stories about how God is transforming their communities in an entirely new era for the church.  The book  explores what's happening now in innovative church movements in continental Europe, Asia, and Latin American and in African American hip-hop cultures.
My chapter explores Identity formation within an emerging  post-Christendom Context.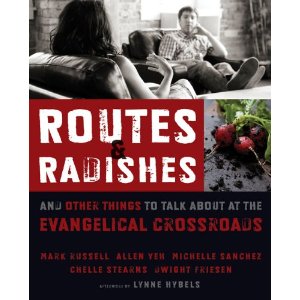 "Routes & Radishes: And Other Things to Talk about at the Evangelical Crossroads"
Self-identifying as 'evangelical' is risky business these days. What is Evangelicalism? Is it a historical artifact? A political philosophy? A set of doctrines? A litmus test for genuine faith? Perhaps more important, what will come to mind when future generations hear something described as 'evangelical'? The authors of Routes and Radishes approach this issue from various points of influence within evangelical organizations, denominations, and institutions. They believe that the historical distinctive of Evangelicalism is too powerful and too positive to be abandoned. Yet they all desire that the Evangelicalism of the future break away from common pitfalls in the task of loving people toward a vital relationship with God through Jesus Christ. Each author brings a different but vital perspective to the conversation this book represents. They chart a path that, while not monolithic, takes seriously the past and potential of the evangelical movement. Furthermore, they invite you to digest, participate, question, and make the future of Evangelicalism a meaningful part of your walk of faith.
• Published by Zondervan in November 2010.
• Afterword by Lynne Hybels.
• Authoring with: Mark Russell, Michelle Sanchez, Allen Yeh & Chelle Stearns
What Others are Saying about Routes & Radishes:
"[This] conversation, which has a strong contemporary feel, embraces courteous disagreement and considerable self-criticism-surely both signs of a maturity that the Evangelical movement has not always displayed." — David Beddington author of The Dominance of Evangelicalism

"[Envisioning] a form of Evangelicalism which is self-critical, richly nuanced, and ecumenically aware.  If this the the Evangelicalism of the future, there is reason to be hopeful." — Simon Chan author of Liturgical Theology

Read a Review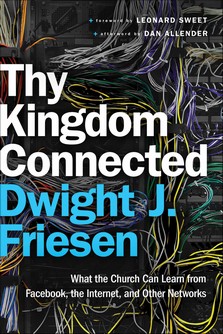 "Thy Kingdom Connected: What the Church can Learn from Facebook, the Internet and Other Networks"
• Media Kit for Thy Kingdom Connected
• Published by Baker Books, 2009
• Forward by Leonard Sweet & Afterword by Dan Allender
What Others are Saying about Thy Kingdom Connected:
"A wonderful tutorial for those who want to experience the kingdom as more than a wistful idea." — Reggie McNeal, missional leadership specialist for Leadership Network
"A must read for all who yearn for a unified and healthy body of Christ in a connected world." — MaryKate Morse, professor of leadership and spiritual formation, associate dean, George Fox Evangelical Seminary and author of Making Room for Leadership
"Friesen brings together current thinking on the Trinity, the kingdom of God, and missional church, and creates the first contextual ecclesiology for a networked world. Highly recommended."– Ryan Bolger, associate professor of Church in Contemporary Culture, Fuller Theological Seminary; co-author of Emerging Churches
"A guide to harnessing the powerful possibilities of connections made available through social networks. You may never look at 'church' the same way again." — John R. Franke, Clemens Professor of Missional Theology, Biblical Seminary; author of Manifold Witness: The Plurality of Truth
"A very readable, genuinely intelligent, and highly resourceful book.  A worthy read!" — Alan Hirsch, author of The Forgotten Ways; founding director of Forge Mission Training Network
"A treasure chest of insights to further the conversation on the nature of the missional church in post-Christendom Western societies." — Eddie Gibbs, author of ChurchMorph; professor of church growth, Fuller Theological Seminary
"Helps us see how connection is at the core of the gospel. I recommend it to all Christians emerging in this inescapable cultural reality." — David Fitch, B. R. Lindner Chair of Evangelical Theology, Northern Seminary
Reviews of Thy Kingdom Connected:
Click here for a the most recent blog conversation about the book; or here are a few links to reviews I've found: Englewood Review of Books, Postkiwi – Duncan Macleod, Glenn Zuber, Alan Engler, Tony Jones, Jesus Creed, thornscompose.wordpress.com, TheOoze Viral Bloggers,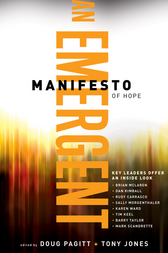 "Orthoparadoxy: Emerging Hope for Embracing Difference"
• Chapter 17 in An Emerging Manifesto of Hope
• Edited by Doug Pagitt & Tony Jones
• Published by Baker Books, 2007
.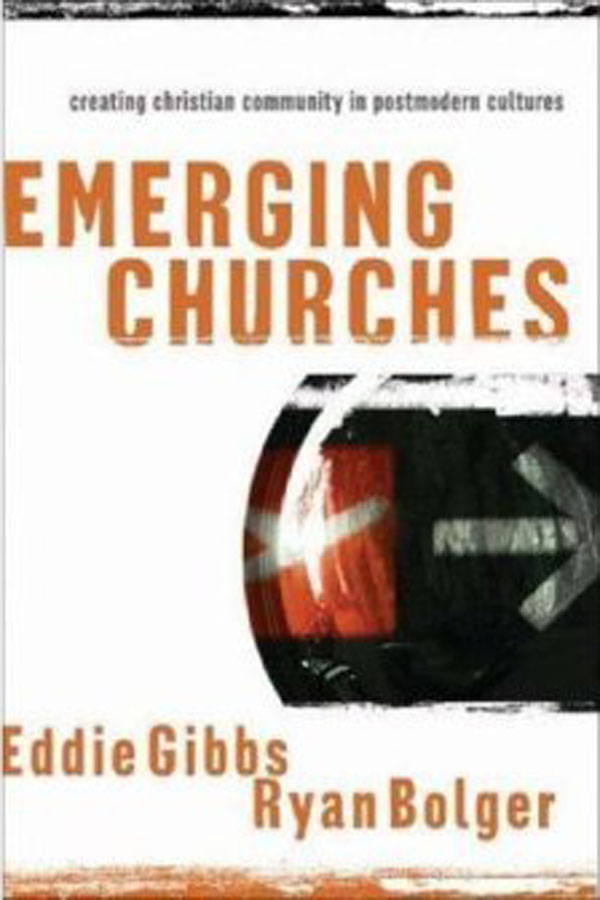 Featured in: "Emerging Churches: Creating Christian Community in Postmodern Cultures"
• By Eddie Gibbs & Ryan K. Bolger
• Published by Baker Academic & Brazos Press 2005
.
Peace, dwight