Teaching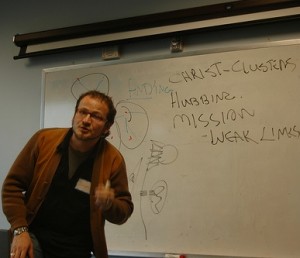 I am part of the core faculty at The Seattle School of Theology & Psychology in the Belltown neighborhood.
I have often told people that if The Seattle School had existed when I was doing my graduate studies I would have been there in a heartbeat.  I deeply resonate with the school's mission.  Rarely have I experienced a learning community more deeply committed to the idea that all truth is God's truth, regardless of the discipline and to take this idea further by intentionally bringing different disciplines into relationship.  We have three primary degree programs: Counseling Psychology, Divinity, and Theology & Culture.
The mission of The Seattle School is to train people to be competent in the study of text, soul, and culture in order to serve God and neighbor through transforming relationships.
Some of the courses of study in which I get to serve as a guide include (though not exhaustive, this list includes active courses and classes I have taught):
Leadership in the New Parish Certificate, a practitioners think-tank.
Culture, Identity, & Locatedness
Mission as Faithful Presence
Life Together 1: Ancient-Future Church & Worship
Life Together 2: Relational Leadership & Pastoral Ethics
Crafting Transformational Moments
Introduction to the Hermeneuticial Task: The Art of Reading Beyond the Page
MDiv Practicum 2 & 3
Mission in a Global Context
Theories of Culture
Essential Community
Toward a Relational Theology
The Kingdom of God & the New Sciences
The Body of Christ: Rediscovering the Local Parish as Embodied Witness
Selected Readings
If you would like to learn more about studying at The Seattle School or about some of the many conferences and workshops we provide visit www.TheSeattleSchool.edu.
Peace, dwight