Speaking/Facilitating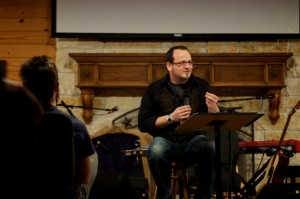 My speaking and facilitating engagements consist of a wide-range of settings from churches to colleges; from youth events to citywide meetings; from retreats to home groups.
I am intentional in describing myself as a "facilitator" in that I utilize mini-talks, media, discussions, Q&A, smaller group conversation, and spiritual exercises in my speaking.
Some of my favorite facilitated learning engagements include topics such as:  the New Parish, missional living, faith & culture, God's networked Kingdom, emerging church issues, connective leadership, contextualization, transformational process, reading Scripture, and new sciences & theology.
While I attempt to be as open and flexible as possible to many kinds of speaking opportunities, I do find it necessary to establish some norms to my speaking schedule.  I limit the number of times I travel per year. I keep my own speaking schedule and can be reached by email (dfriesen@theseattleschool.edu) and telephone (206.276.3992).
If you would like to discuss the possibility of my joining you please feel free to contact me; also contact me  for an extended biography or media photographs.  I look forward to being in touch.
Peace, dwight