inhabit conference: seattle, april 29-30
By
Dwight J. Friesen
| March 9th, 2011 | Category:
New Parish Church
|
2 comments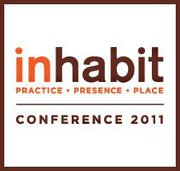 There is a tectonic shift happening under the surface of the church in North America. Parishioners are returning to the parish. The greater our individual mobility extends, the greater the world's longing and need for a faith that can be lived out collectively – where we can be present… where there is an embodied practice… where the gospel becomes tangible in a particular place. This emerging pattern of local practice, presence, and place is the theme of Inhabit.
This gathering will bring together innovative missional practitioners from neighborhoods across the country  to empower, encourage, and engage each other around practicing the way of Jesus in place.
Mar Hill Graduate School, Parish Collective and TransFORM are putting this event together with the support of many other organizations.
Speakers, facilitators & workshops leaders include:  Majora Carter, Brenda Salter McNeil, Bruce Reyes-Chow, David Fitch, Kathy Escobar,Tony Kriz, Rose Swetman, mark Scandrette, Tim Condor, Karen Wilk, Anothy Smith, Tom Sine, Clark Blakeman, Ron Czecholinski, Brandon Rhodes, and more.
I hope to see you there.
Peace, dwight