Remembering Clark Pinnock
By
Dwight J. Friesen
| August 16th, 2010 | Category:
Relational Theology
|
2 comments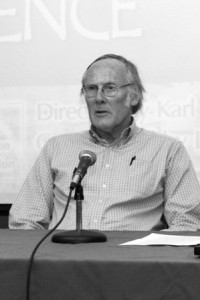 Christian Theologian Dr. Clark Pinnock passed away yesterday (August 15th, 2010).
Dr. Pinnock was a strong and at times conversational voice in the Evangelical movement.  He taught most recently at MacMaster Divinity College in Hamilton, Ontario in Canada.  And published many books, including (but certainly not limited to):
Flame of Love: A Theology of the Holy Spirit (one of my favorite books on the theology of the Holy Spirit),
The Scripture Principle: Reclaiming the Full Authority of the Bible,
The Grace of God and the Will of Man,
Dr. Pinnock also wrote Most Moved Mover: A Theology of God's Openness and co-authored, The Openness of God: A Biblical Challenge to the Traditional Understanding of God, both of which were central to discussion of what has become known as "Open Theism."
No stranger to controversy Dr. Pinnock affirmed an annihilationist view of hell that says that the "unsaved" will experience extinction rather than eternal conscious torment.
Both my sister-in-law and my brother had the pleasure of studying under Dr. Pinnock.  Though I never had the privilege of meeting Dr. Pinnock I am deeply grateful for his writing and his contribution to North American Christian theology and especially for his influence within the Evangelical movement.
My deepest sympathies go out to his wife Dorothy, Little Bethel Community Church, and all who were blessed to personally know him.
For more on the legacy of the late Dr. Clark Pinnock see:
Peace, dwight