relational Christian education
By
Dwight J. Friesen
| April 14th, 2010 | Category:
Identity Formation
|
Comments Off

on relational Christian education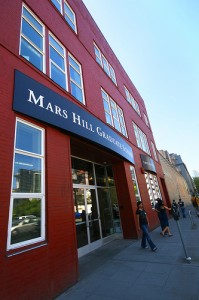 I have said many times that if Mars Hill Graduate School had existed when I was doing my Masters work I would have been here in a heartbeat.  And for the last few years I've had the pleasure of learning with some of the most creative, Kingdom of God oriented, integrative people (students, staff, board & faculty) I've ever met.
For more than a decade we've been training women and men to serve God, neighbor and creation, offering degrees which prepare people to embody the Gospel in realms of pioneering/missional church, therapeutic/counseling and social advocacy/arts.
We have begun a campaign which, we hope, will enable fresh partnerships with individuals, organizations, local churches and denominations who share a vision for active participation with God's dream for all of creation; and we fully expect to be called into transformation as we partner together in service.
Here's a link to the IgniteMHGS campaign, and a link to my personal page.  This stage of our campaign involves seeking out prayer partners, financial partners, and what I'm especially interested in is exploring ways of partnering with people and organizations who are seeking faithful, playful, and contextual ways of embodying Good News for all. Let's be in touch.
Peace, dwight