exciting news (at least for me) about new book
By
Dwight J. Friesen
| February 11th, 2010 | Category:
Featured
|
4 comments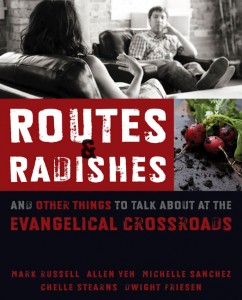 Just found out that our completed manuscript for our new book has been officially accepted by Zondervan.  I looks like the book should hit the shelves in October 2010.
The book will be titled, Routes & Radishes: and other things to talk about at the Evangelical Crossroads.   It is a co-authored projected exploring the history and future of the modern Evangelical movement.  Mark Russell, Michelle Sanchez, Allen Yeh, Chelle Stearns and me.
BTW though I got this this image from Zondervan's web site I don't have confirmation regarding it as the final cover . . . I'll post the cover as soon as I see it.
Peace, dwight