Conversation with Moltmann
By
Dwight J. Friesen
| October 23rd, 2009 | Category:
Relational Theology
|
No Comments »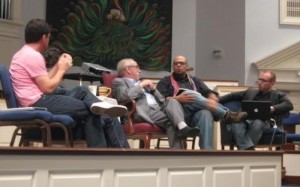 One of the thrills of my life was to share space with Professor  Jürgen Moltmann.
it was a great privilege to hear Professor Moltmann tell his story and engage candidly with our panelists and the crowd.
Special thanks to Tony Jones, Doug Pagitt and JoPa Productions for carrying the lion's share of creating, moderating and hosting this 2009 Emergent Theology Conversation.
Peace, dwight